Ultimate English Worksheets
- Beginner to Advanced
- 15,000+ Language Arts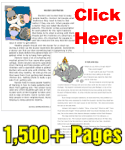 Ultimate Reading Series
- 4,000+ Printables
- K-12 and ready to go!
Middle School Level English Language Arts Lesson Plans
3D Model - This lesson helps students investigate setting. Students are asked to create a 3D model of one of the major settings in the book. They are challenged to include as many details as possible, including the time of day and season of the year.
Adjectives in Advertising - The student will be able to list adjectives that describe a popular product.
Next 50 Middle School Language Arts Lesson Plans
Awesome Phonics Sets
- Beginner to Advanced
- Word Families, Blends...
Ultimate Writing Series
- Over 400 Printables.
- Great Teacher Timesaver.