Ultimate English Worksheets
- Beginner to Advanced
- 15,000+ Language Arts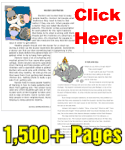 Ultimate Reading Series
- 4,000+ Printables
- K-12 and ready to go!
Elementary Level English Language Arts Lesson Plans
3-D Spelling - Students will bring their spelling words to life as they use their classmates' bodies to make letters and spell words.
Act It Out - The poetry of Shel Silverstein is funny, quirky and whimsical. Students will enjoy putting his words into action!
Next 70 Elementary Language Arts Lesson Plans
Awesome Phonics Sets
- Beginner to Advanced
- Word Families, Blends...
Ultimate Writing Series
- Over 400 Printables.
- Great Teacher Timesaver.