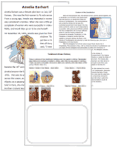 Ultimate Social Studies Series
- Over 2,900 Printables
- For All Grade Levels
Need Tons of New Worksheets?
- 50,000+ printables
- Super Timesaver!
Kindergarten to Grade 3 Social Studies Lesson Plans
Abraham Lincoln's House - In this lesson, students will make their own version of his home. This tasty treat is a great way for students to visualize where one of our greatest leaders grew up.
American Symbols Matching Game - This lesson will not only familiarize students with the various symbols of our country, but they will learn some fun facts about each symbol along the way.
Who Created the Constitution?
- Super Series
- Explorer Leaders
The Constitution and Mistakes?
- Checks and Balances
- Branches of Government
Next 50 Kindergfarten to Grade 2 Social Studies Lesson Plans