Ultimate English Worksheets
- Beginner to Advanced
- 15,000+ Language Arts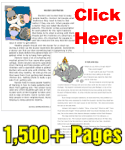 Ultimate Reading Series
- 4,000+ Printables
- K-12 and ready to go!
High School Level English Language Arts Lesson Plans
3 Star Sentences - Independent production of a sentence that goes beyond the noun and verb; including how, when, how and descriptions.
A Tale to Astonish - The students are to read the detective stories of Edgar Allen Poe and then use that knowledge to complete a WebQuest for a grade.
Next 70 High School Language Arts Lesson Plans
Awesome Phonics Sets
- Beginner to Advanced
- Word Families, Blends...
Ultimate Writing Series
- Over 400 Printables.
- Great Teacher Timesaver.