Ultimate Guide to Spelling
- High Frequency Rules
- For K-12 Students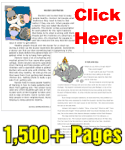 Reading Series
- 4,000 Reading Printables
- A Must See
Basic Cloze Worksheets
Have students cloze the gaps in the reading passages. Words are removed from all these passage a word bank is supplied for most of the passages.
Most Common Verbs Unit
- 320 printables
- Stimulates Vocabulary
Most Common Adjectives Unit
- Phonics Activities
- Guided Language Skills
Cloze Paragraph Worksheets
These are detailed themed resources.
Holiday Cloze Worksheets
All of these worksheets relate to a specific holiday.
Science Cloze Worksheets
These printables focus on the subject of science.
Social Studies Cloze Worksheets
The focus here is on places and people.