Ultimate "How to Study" Guide
- An Absolute Gem!
- Understand How To Study
Learning Styles Inventory
- Discover Your Learning Mode
- Improve Test Scores!
Study Skills Resource Guide and Activities
Understanding how students learn most effiecently is a key concept that most schools simply don't have the time or resources to help students with. If you take time to help your students understand this about themseleves, you will see a greatly increased aptitude and interest. Simply put, students that understand how they learn best are better students. In addition, because they have great success students are much more motivated to learn.
Study Skills Success Packs
How To Improve Your Study Skills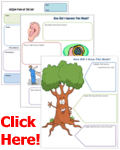 Busy Teacher Forms
- 600 Instant Forms
- For All Grade Levels
Endless Worksheets
- 50,000+ printables
- Save Time Now!
Study Skills Web Quests
Teacher Forms
Language Arts and Math Packs
Science Study Packs
Social Studies Packs