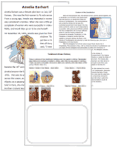 Ultimate Social Studies Series
- Over 2,900 Printables
- For All Grade Levels
Need Tons of New Worksheets?
- 50,000+ printables
- Super Timesaver!
Social Studies Lesson Plans
Civics | Community Helpers | Elections and Voting | Government
High School Social Studies | Kindergarten to Grade 3 Lessons
Grades 3 to 6 Lessons | Middle School Lessons | Native Americans
United States History | World History | Social Studies Worksheets
SS Subject Matter | SS Teaching Resources
Abraham Lincoln's House - In this lesson, students will make their own version of his home. This tasty treat is a great way for students to visualize where one of our greatest leaders grew up.
America Before and After 9/11 - Where were you during the 9/11 attacks? What were you doing? What do you remember about that day? Students will have a chance to see how this day changed America.
Other History Lesson Plans