Awesome Phonics Sets
- Perfect For K to Grade 3
- Word Families, Blends...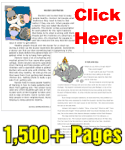 Ultimate Reading Series
- 4,000+ Pages
- Teachers Love It!
Curriculum For English Language Arts
We are one of the most comprehensive sources for great English Language Arts curriculum you will find anywhere. We have tons of English graphic organizers, lesson plans, printables, teacher resources and worksheets.
| | |
| --- | --- |
| Lesson Plans | English Worksheets |
| Teacher Resources | Printable Vocabulary |
| Rubric Packs | Graphic Organizers |
| Parts of Speech | Teacher Tools |
| Spelling | Reading Comprehension |
| Phonics | Handwriting |
| Grammar | Types of Writing |
| Letters and Sounds | Teachers Sites |
| Games | Teaching Tips |
Vocabulary Worksheets
- Kindergarten to High School
- Super Skill Builders
Ultimate Writing Series
- 400+ Pages
- Writing Helpers