Complete Graphing Series
- All Graphing Forms
- Step by Step Graphing
Ultimate Line Graph Pack
- Self Guided Lessons
- Great Worksheets
Printable Practice Grid Paper
Grid paper, also called graph paper, always runs out quickly. Here are some printable templates for you to print when ever you run out. It's a great idea to always use this kind of paper for practice. Save your good paper for when you need it to count.
Awesome Bar Graph Series
- Students Love It!
- Teachers Are Raving!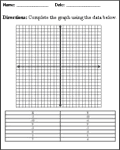 Graphing Worksheet Maker
- Made Instantly!
- Bar, Coordinate, Line, Pie
Instant Printable Graphing Sets and Helpers