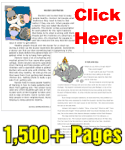 Ultimate Reading Series
- 4,000+ Worksheets
- Reading Lessons Too!
Ultimate Writing Series
- 400+ Writing Printables.
- Super Timesaver.
Available Teacher Resource Guides on English Language Arts Topics
English Language Arts has five identifiable components including listening, reading, speaking, viewing, and writing. In this section of our site we provide you detailed teacher guides on these area. We also point out available teacher resources on these areas. If you are looking for Common Core Aligned materials, we would recommend English Worksheets Land. Pick a theme from our selection of popular themes and topics and find links to a variety of resources that will help you to develop lessons that are challenging, exciting, and fun for students!