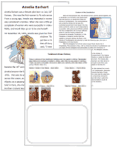 Ultimate Social Studies Series
- Over 2,900 Printables
- For All Grade Levels
Need Tons of New Worksheets?
- 50,000+ printables
- Super Timesaver!
Printable Westward Expansion Worksheets
By the mid-nineteenth century the American colonists population had grew immensely in size and traveled as far as Texas. Land to the West had less demand and as a result was much less pricey. Pioneers set west in search of affordable land and new experiences. This set of worksheets helps students better understand the push west.
Printable Bulletin Board Items