"How to Study"
- Help Students Prepare
- Organize Students
Teacher Timesaving Forms
- Over 600 For You!
- Huge Collection
Using Parts Of A Book Worksheets
We often take for granted the meaning behind certain sections of books. These worksheets will help students understand the meaning of different parts.
Using A Table Of Contents - We look at the use and procedure for the table of contents.
Using An Index For Information - What are indexes?
Using Parts Of A Book - How many parts are there anyway?
Related Teacher Resources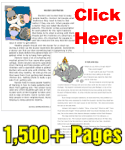 Reading Series
- Four Thousand Pages
- Kindergarten Through High School
Ultimate Phonics Series
- Great For Reading Skills
- Makes Mastering Reading Simple!