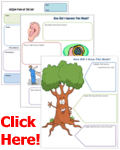 Busy Teacher Forms
- 600 Instant Forms
- For All Grade Levels
Endless Worksheets
- 50,000+ printables
- Save Time Now!
School Bulletin Boards
We have a wide variety of themed bulletin board characters and icons. You might also want to check out our Bulletin Board Ideas That Worked For Other Teachers section. We are not the only place in town for great bulletin border items. You can find a number other great web sites that have bulletin boards for schools.