Awesome Teacher Timesavers
- Unbelievable
- A Must See
Emergency Lesson Plans
- Short On Time?
- This Will Do It!
Printable Word Chop Worksheets
Word Chops are a great way to learn and master new vocabulary words. The words are chopped into two pieces. The challenge is for students to figure out which two parts go together.
Grade Leveled Word Chop Worksheets
Top 600 High School Vocabulary Words
- Great For College Prep
- Meets National Standards
1000 of the Most Often Used Words
- Test Prep Time-saver
- A Great Resource
View Now...
Themed Word Chop Worksheets
How to Study Guide
- Everyone Loves It!
- Review Tool!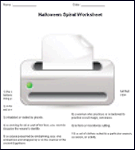 Worksheet and Puzzle Makers
- Instant Printables
- Give It a Whirl!