Great Teacher Timesavers
- 600+ To Print
- Save Loads of Time
Emergency Lesson Plans
- We've Got Them!
- Kindergarten to Grade 8
Printable American Sign Language Worksheets
It's estimated that two million people in the United States communicate using American Sign Language. This form of communication is also commonly used in Canada and Mexico. We have number of helpful worksheets and flashcards you can print and use with students.
Sign Language Alphabet Flash Cards (Letters)
Sign Language Handouts (5 Letters)
What Does It Say? (In Sign Language)
How to Study Guide
- Everyone Loves It!
- Review Tool!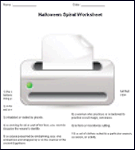 Worksheet and Puzzle Makers
- Instant Printables
- Give It a Whirl!