Awesome Teacher Timesavers
- 600+ Pages
- Great Templates
Emergency Lesson Plans
- Instant Plans
- Zero Teacher Stress
Printable Classroom Labels
Ever wish everything in your classroom was labelled? Now it is easy! We have a whole bunch of new labels for you. Just print and stick to your personals.
Audio / Visual Classroom Label Sets
General Classroom Label Sets
Objects Label Sets
How to Study Guide
- Everyone Loves It!
- Review Tool!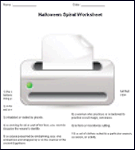 Worksheet and Puzzle Makers
- Instant Printables
- Give It a Whirl!
Paper Supplies Label Sets
Student Supplies Label Sets
Teacher Label Sets