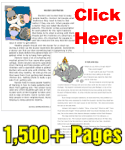 Reading Comps.
- 4,000+ to Print!
- K-12 and ready to go!
Awesome Writing Sets
- Print and Go!
- Teachers Love It!
Main Idea Worksheets
Read all the passage and find the main idea for us. This is a pivotal skill at all levels. Make sure to bookmark this page because we will have many more for you shortly.