Complete Time Series
- Clocks, Calendars, Schedules Too!

- 286 Printable Pages


Telling Time Worksheets
You will find a wide range of worksheets for students that are just learning to tell time with an analog clock. This is often a difficulty skill for students at first. Using a pizza pie works great to help solidify this concept. Alos, make sure to check our complete curriculum for this area. It's one of the best out there!
Telling Time Resources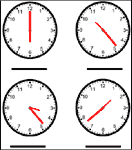 Telling Time Worksheet Maker
- Make 100s of worksheets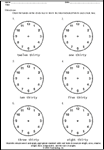 Time Skills
- 34 Printable pages
- Master the skill.
- A great way to learn.