Complete Rubric Collection
- Reading, Writing, Math, Science, Tons of Skills
- 500+ Printable Rubrics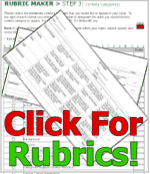 Rubric Makers
- Make Endless Printables
- Just Print and Go!
Rubric Resource Guide and Activities
If you haven't notice yet, we take rubrics pretty serious around here. Rubrics are wonderful assessment tools. They make assessing a subjective task or skill fair for all to the greatest extent possible. Below you find a wide range of our available rubric resources.
What Are Rubrics?
Complete Rubric Packs
Everyday Rubrics
- For Daily Use
- Always There!
Reading Rubric Pack
- Assess Reading
- Make It Simple!
How To Make Rubrics
Science Rubrics
Report Card Comments