Ultimate English Worksheets
- Beginner to Advanced
- 15,000+ Language Arts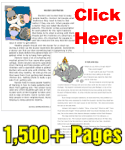 Ultimate Reading Series
- 4,000+ Printables
- K-12 and ready to go!
Books Lesson Plans Starting With the Letter "G"
Book Lesson Plans Title By Title:
A B C D E F G H I J K L M N O P R S T U V W
Ultimate Writing Series
- Over 400 Printables.
- Great Teacher Timesaver.
Story Starters: Volume 1
- Awesome Prompts
- Visual Cues