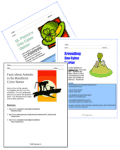 Web Quests Ready-to-go!
- 340+ Pages
- Just Click and Print!
Need Tons of New Worksheets?
- 50,000+ printables
- Save Time!
Early Childhood Web Quests
Web Quest Maker | What's A Web Quest, You Ask?
African Animals - We are going on an African Safari. We know that there are many different animals in the world. You and a partner will be Safari tour guides and introduce two animals to the rest of the class. You will become an expert on your chosen animal.
Animal ABC Book - You have been asked by the school librarian to create an Animal ABC book. The librarian wants to add your book to the collection of books in the school library.
Autumn Apple Picking - We will listen to stories about Autumn and learn new fall words. Come, letís go enter the apple orchard to begin!