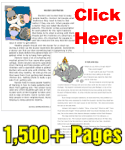 Ultimate Reading Series
- 4,000 Printable Pages
- All K-12 Levels
K-12 Reading Rubrics
- New Rubrics!
- Just Print and Go!
Summer Reading Lists Program

We are often asked by many school districts to recommend grade leveled books for summer. We decided that the need for a summer reading list was long over do. We polled 100 teachers (per grade) across the U.S. and Canada as to which books they recommend for their summer reading programs. The result is a comprehensive list of books for summer reading. Hopefully this will be helpful for both parents and teachers.
Choose the grade level of the summer reading list you would like to view.
Elementary
Middle School
High School
High School Reading
- Great Practice
- For Grades 9-12
Middle School Reading Sets
- Age Appropriate Content
- Grade Leveled For Grades 6-9
View Now...