Super Rubric Makers
- Great Rubrics Instantly!
- All K-12 Subjects
Instant Puzzles Makers Too!
- Create Worksheets
- Endless Puzzles
Parent / Teacher Conference Form Generator
Directions:
This generator can make a form that can be used at all parent teacher conferences. This form should be be kept on file to reflect upon later in the school year. It is also a good idea to send a copy of completed forms home with the students. This serves as a reminder of goals for each student.
Language Arts Worksheet Makers
- Worksheets In Seconds
- Over 30 Types Of Sheets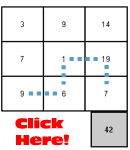 Math Worksheet Makers
- Over 200 Formats
- Kids Love It!