Super Rubric Makers
- Great Rubrics Instantly!
- All K-12 Subjects
Instant Puzzles Makers Too!
- Create Worksheets
- Endless Puzzles
Functional Behavioral Assessment Generator
This generator can be used to make functional behavioral assessment, which is a process of problem solving used to address a chronic behavior problem. To learn more about functional behavioral assessments, view our full tutorial entitled "Conducting A Functional Behavioral Assessment".
Language Arts Worksheet Makers
- Worksheets In Seconds
- Over 30 Types Of Sheets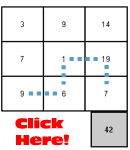 Math Worksheet Makers
- Over 200 Formats
- Kids Love It!