Ultimate Bingo Card Maker
- For Math and Words
- People Love It!
Instant Puzzles Makers Too!
- Create Worksheets
- Endless Puzzles
5 x 5 Bingo Card Maker
You are about to make a 5 x 5 BINGO Card. In order to make your card, input 25 words or phases below that you would like to appear on your BINGO card and then click on "FREE BINGO SPACE!"
5 x 5 (25 Terms)
Language Arts Worksheet Makers
- Worksheets In Seconds
- Over 30 Types Of Sheets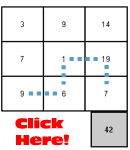 Math Worksheet Makers
- Over 200 Formats
- Kids Love It!