Ultimate Bingo Card Maker
- For Math and Words
- People Love It!
Instant Puzzles Makers Too!
- Create Worksheets
- Endless Puzzles
3 x 3 Bingo Card Maker
You are about to make a 3 x 3 BINGO Card. In order to make your card, input 9 words or phases below that you would like to appear on your BINGO card and then click on "FREE BINGO SPACE!"
3 x 3 (9 Terms)
Language Arts Worksheet Makers
- Worksheets In Seconds
- Over 30 Types Of Sheets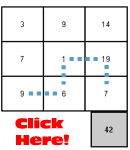 Math Worksheet Makers
- Over 200 Formats
- Kids Love It!