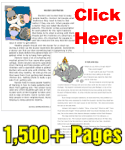 Ultimate Reading Series
- 4,000 Printable Pages
- All K-12 Levels
Need Tons of New Worksheets?
- 50,000+ printables
- Save Time!
Where Can You Find Spanish Literature for Children?
One cannot deny the strong influence the Spanish has in the field of Literature. With the respected reputation of writers Gabriel Garcia Marquez and Isabel Allende, Spanish literature seems to have gained their own spot in the shelves of any bookstores. Since the genre has produced works that are considered by many as risqué, bizarre and oftentimes controversial, parents have to wonder how their children might benefit from the writing talents of the Spanish. Here are some ways to find the proper Spanish books for the young ones to appreciate.
This is a website that specializes in informing people about various books available in foreign languages. Search options include the ability to classify queries based on the grade level of the child, providing site users with hassle-free navigation. Multilingual Books also sells Spanish-language books or books written by famous Spanish writers. Parents are free to add items to their carts for an easy shopping experience. The site also sells famous literature such as Harry Potter and Twilight. There is also a section that gives information regarding the availability of e-books and DVDs that teach young ones how to speak the language.
Aptly named due to the massive amount of items available for online buyers, Amazon is considered as one of the world's most visited websites. Founded in 1994, the site has gone on to provide millions of people with international online retailing services. Amazon is also known for the books it sells. There is a search function at the top of its webpages, allowing parents to type in whatever book they are looking for. The site also sells books written in various languages.
Here is a website a lot of readers might not know about. Book Depository gives Amazon a run for its money with the huge amount of books it sells. Whether it is written in English or Spanish, the book is sure to arrive on one's doorstep in good condition. What sets this website apart from other online sellers is that all books can be shipped to almost anywhere in the world free of charge. All a buyer needs to do is to pay for the original price of the book and he is good to go. Book Depository supports multiple currencies such as US Dollars and British Pounds. Overall, this is one of the most underrated websites out there.
Américas Book Award for Children's and Young Adult Literature
If you are asking the question "where can you find Spanish literature for children," look no further than award-giving bodies. The Américas Book Award is an award given to recognize American works of poetry, fiction and nonfiction published in both English and Spanish languages. Picture books to young adult literature can qualify for the awards as long as the stories contain an authentic portrayal of Latin Americans and the Caribbean in the United States. This award-giving body aims to smash the borders between races and is known to focus on the important cultural heritage that defines both races. Parents can opt to contact the institution in order to obtain a list of winners.
Pura Belpré Award
Established in 1996, the Pura Belpré Award is given to a writer or illustrator of Latino or Spanish origin whose literary works successfully portrays the Spanish culture for the sake of young readers around the world. The Association for Library Service for Children serves as co-sponsor. The award is named after the first Latina librarian to serve at the New York Public Library. From 1996 to 2008 the awarding ceremonies happened biennially but have since become annual events.