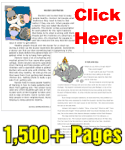 Ultimate Reading Series
- 4,000 Printable Pages
- All K-12 Levels
Need Tons of New Worksheets?
- 50,000+ printables
- Save Time!
Children's Literature Awards
There are many awards for children's books. Some honor writing, some illustration, and some are for very specific criteria. Some awards are national and some are global. Books that have earned awards are great resources for teachers to use for choosing quality literature for their students. Let's take a look at some of the most prestigious honors.
The Newbery Medal is an award given by the American Library Association (ALA) each year for a children's book by an American author that is of excellent quality. Past winners of this award include Holes by Louis Sachar, The Graveyard Book by Neil Gaiman, Bridge to Terabithia by Katherine Paterson, and Maniac Magee by Jerry Spinelli.
The Caldecott Medal is awarded yearly by the School Librarians Sections of the ALA. This award goes to an American artist for his or her illustrations in the most distinguished picture book of the year. Among the winners: Chris Van Allsburg won for both The Polar Express and Jumanji; Brian Selznick won the medal for The Invention of Hugo Cabret; and Peggy Rathmann won for Officer Buckle and Gloria.
The Carnegie Medal is awarded to a book from the UK that is found to be of outstanding quality. Past winners include Skellig by David Almond, Ruby Holler by Sharon Creech, and The Amazing Maurice and his Educated Rodents by Terry Pratchett.
The International Board on Books for Young People awards the Hans Christian Andersen Awards every other year to a living author and a living illustrator who has made a significant contribution to children's literature. Authors from all over the world have been honored, including: Katherine Paterson (US), Astrid Lindgren (Sweden), Margaret Mahy (New Zealand), and Aidan Chambers (UK).
The Young Reader's Choice Award is designated to honor a book that children vote on as an enjoyable read. Nominations come from children, teachers, parents, and librarians in Alaska, Alberta, British Columbia, Idaho, Montana, and Washington. This award is unique because all voting on the finalists is done by 4th-12th graders in the Pacific Northwest. Winners are divided by age group. Past winners include: Lightning Thief by Rick Riordan, Dragon Rider by Cornelia Funke, Eragon by Christopher Paolini, and The House of the Scorpion by Nancy Farmer.
The Theodor Seuss Geisel Award is given each year to an author and illustrator for a distinctively high quality book for beginning readers. There Is a Bird on Your Head by Mo Willems and Henry and Mudge and the Great Grandpas by Cynthia Rylant and Sušie Stevenson have won this award.
These are just a few of the awards presented to authors and illustrators of children's books. For a list of more awards, visit About.com's page of award winners. Links to descriptions of each award are included. Another resource is found here for the major awards and lists of past winners.
When looking for great books for lesson plans and other classroom use, watch for the seals associated with award winning books. Choosing these books guarantees high quality selections for your students.
More Information on Children's Literature Awards