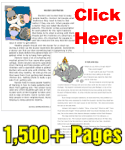 Ultimate Reading Series
- 4,000 Printable Pages
- All K-12 Levels
Need Tons of New Worksheets?
- 50,000+ printables
- Save Time!
Hans Christian Anderson, A Life Filled with Fairy Tales
| | |
| --- | --- |
| | When you were a child, you no doubt were told or read the famous stories of Hans Christian Anderson. Many of the stories popularized by Disney, such as The Little Mermaid, were the original works of Hans Christian Anderson. He was born in 1805, to very poor parents in Denmark. He died in 1870. |
Hans Christian Anderson knew at a young age that he wanted to be a writer. With his first visit to the theatre in his hometown of Odense, Denmark - he was hooked on fantasy and make believe. Before he became a writer, he attempted to be both a singer and an actor at the Royal Theatre in Copenhagen. He left his family to follow his dreams at the age of 14. Unfortunately, this was not going to work out for him and some of the elders at the theatre who took pity on him looked after him. They made sure that he was educated and took care of his needs which helped him to create success later in life. A few years later, he began writing plays. In 1822, the theatre manager became Hans Christian Anderson's guardian in a strange of turn of events that started his infamous writing career.
Hans Christian Anderson's first poem The Dying Child was written about his turmoil during this period in his life. It was published in Danish and German in 1827. From that point on, his life became one success after another. He was constantly meeting just the right person at the right time and found himself highly educated and among the world's literary greats by the age of 25. He wrote two more plays which were successful and began writing his fairy tales in secret. During the next decade, his fairy tale works would be published sporadically throughout years. By 1848, his work was also being translated and published into French. Throughout this time, not only was he writing fairy tales - but he worked on novels as well. However, his children's works were much more popular.
In total, Hans Christian Anderson wrote 168 fairy tales. Some of the most popular have been Thumbelina, The Ugly Duckling, The Little Mermaid, The Steadfast Tin Soldier, The Snow Queen as well as many others. Today, his work has been translated in over 150 languages worldwide. Many of his works have been used for plays as well as highly popular animated films and motion pictures. Some of his lesser-known works include poems such as I am a Scandinavian, as well as many travelogues that were sparked by his own experiences traveling around Europe.
In 1847, Hans Christian Anderson met Charles Dickens in England. Ten years later, he stayed at Dickens's house and was said to be an unwelcome guest. Many historians believe that the unattractive character Uriah Heep in the book David Copperfield was based on Dickens dreadful experiences with Hans Christian Anderson.
Hans Christian Anderson was never married and lived a life that was punctuated by traveling and trying to find a family to call his own. In Copenhagen, Denmark - a statue of the little mermaid sits at the harbor in honor of Hans Christian Anderson. He also has statues erected in his honor at the town square in Copenhagen, Denmark as well as in several places across the United States. Hans Christian Anderson died in 1875 after suffering three years of illness and disability that resulted from a fall. His work has lived on in the lives of children worldwide ever since.
More Information On Influence of Hans Christian Andersen
Aesop's Fables- 127 fairy tales of Andersen.
Hans Christian Andersen: Fairy Tales and Stories- from the English Translation: H. P. Paull (1872). Original Illustrations by Vilhelm Pedersen and Lorenz Frĝlich. Very comprehensive and informative site.
Read Print: Hans Christian Andersen - Searchable short stories of Hans.