The Ultimate Teacher Resource
- 50,000+ Printable Worksheets
- Super Timesaver!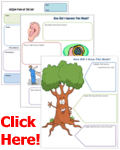 Busy Teacher Forms
- 600 Instant Forms
- For All Grade Levels
Ideas For Curbing Tattling
The Right Response Counts
Eleanor, Inclusion Teacher: Wappingers Falls, NY
"The response to tattling depends on several issues. A certain level of sensitivity is required when deciding the best method to handle a tattling situation. As a teacher, try to think and be aware of what is going on in the childís mind. A simple teacher response such as "Is this tattle meant to keep someone out of danger or to get them in trouble?," or "Thank you for telling me," or "Iíll look into it" is often all that is required."


"Tattle No More!"
Sandy Kemsley, Former Elementary Teacher
"My third and fourth graders use to tattle all day long. I told them that I could not listen to that many tattles a day. Instead of saying no tattles, I told them they could have one tattle a day. I explained that it was more that fair because, I would still have to listen to 28 tattles. Once they tattled, they could not tattle again until the next day. They were so protective of that one tattle, that most of them didn't use it. In a couple of weeks the problem disappeared. :)"


Start Out Right!
Mona, 3rd GradeTeacher: Pougkeepsie, NY
"At the beginning of the school year and at each quarter, discuss with your students the difference between telling to inform and tattling. Role-play with your students various situations to determine safety issues that would require teacher knowledge and involvement. In addition, discuss the numerous tattling situations which only has the goal of getting someone in trouble."


Always Observe!
Donna, 2nd Grade Teacher: Kansas City, Missouri
"Take advantage of the observing skills involved when a student reports a tattle to you! The learning possibilities that present themselves are there! Discuss with your students the art of catching classmates being good and demonstrating positive interactions with their peers. Encourage the use of positive statements and use them often."


A "Tattling Box"
Richard, Middle School Teacher: UK
"The concept of a tattling box often helps to cut down the number of tattles. The box is not meant for issues of information regarding students well being or safety. A shoebox with an opening is placed in the classroom. The students write down the problem and a brief description of what happened. Empty the box periodically throughout the day, and consult with the students as needed."