The Ultimate Teacher Resource
- 50,000+ Printable Worksheets
- Super Timesaver!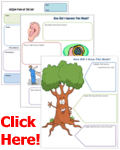 Busy Teacher Forms
- 600 Instant Forms
- For All Grade Levels
Keeping Tabs On Students Automatically
Being aware of where your students are at all times is critical. Parent entrust us with their children. Here is a simple way to monitor your students automatically. We also provide the printable sheets to go with the tip. Here are some printable sheets to make it even easier for you.