Super Rubric Makers
- Great Rubrics Instantly!
- All K-12 Subjects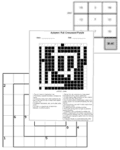 Instant Puzzles Makers Too!
- Create Worksheets
- Endless Puzzles
Submit Your Teacher Resources
We are often asked to post existing work of teachers throughout the world. We have posted the work of hundreds of various teachers throughout the world on our site.
All submissions made to TeAch-nology.com are thoroughly reviewed and added to our site. We would be glad to share your work to share with others throughout the world. Have close to a million people enjoy your work every month by submitting it to TeAch-nology.com.
To submit lesson plans, unit plans, worksheets, rubrics, tutorials, or other printable content, email your work to our editors at:
Others submissions: