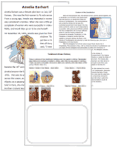 Ultimate Social Studies Series
- Over 2,900 Printables
- For All Grade Levels
Need Tons of New Worksheets?
- 50,000+ printables
- Super Timesaver!
Printable Industrial Revolution Worksheets
An absolute explosion of ingenuity was realized from the 18th to 19th century. Major breakthroughs in agriculture, manufacturing, and transportation allowed humans to do a lot more with less. These worksheets help introduce students to the concepts.
Related Teacher Resources
Industrial Revolution Bulletin Board Printables