Awesome Phonics Sets
- Beginner to Advanced
- Word Families, Blends...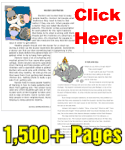 Ultimate Reading Series
- 4,000+ Printables
- K-12 and ready to go!
Compound Words Worksheets
Compound words are formed when two words join together. The word that is formed shares its meaning from both words. For example when we join the word "home" + "sick". We form the word "homesick". The word "home" usually refers to place we reside. The word "sick" usually means ill or in poor health. The word "homesick" refers to the longing caused by separation from your home.