Super Rubric Makers
- Great Rubrics Instantly!
- All K-12 Subjects
Instant Puzzles Makers Too!
- Create Worksheets
- Endless Puzzles
School Hall Pass Generator
Directions:
This generator can be used when students need to leave your room during instructional time. Once generated, photocopies can be made. Each copy will generate three passes per page.
Language Arts Worksheet Makers
- Worksheets In Seconds
- Over 30 Types Of Sheets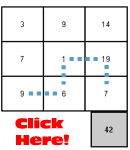 Math Worksheet Makers
- Over 200 Formats
- Kids Love It!