Ultimate Guide to Spelling
- Learning to Spell?
- For All K-12 Students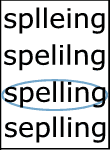 Spelling Worksheet Maker
- Make Them in seconds!
- Just Print and Go!
Five Ways to Prepare For a Spelling Test
Firstly, the main and most important thing you can do to prepare for an upcoming spelling test is not to leave the revision to the night before. It is best to start studying from the very first day that the words to be learned are assigned to you. That way you can gradually build up the words each time they are allocated. The sooner you start to try and memorize the words, the more likely it is that you will be able to recall them perfectly when the test arrives. If you wait until the day before to try and 'cram' everything in, it is guaranteed that you will not do as well.
Secondly, a great and useful tip for studying for spelling tests is to repeat them as often as you can. As spelling tests are school are most preferably given in written form, a more practical and useful way of revising would be to write down each word that you are given to learn at least three times each night, or until they are correctly recalled. Another great method to use would be the Look, Say, Cover, Write and Check method. Although this way you are learning to reproduce the words as you would in the test itself, it may also be a good idea to vary your revision techniques and practice them out loud, in a 'Spelling Bee' format.
Thirdly and rather importantly, you must revise away from all distractions. This doesn't mean that you have to work without background noise, as some people prefer this, for example, softly playing music, but you are much more likely to work efficiently if you are not sat in front of a television screen. If you like listening to the noise of a television whilst you work, sit away from the distractions of the screen so that you can focus on your words.
Also, your teachers really do know best. You may grumble and groan at all their homework but it really is there to help you. So if they set you homework that is related to the words you have to learn for your upcoming test, make sure you do it as there is no doubt that it will be of great benefit to you. As well as setting you the job of practicing the words, they may also hand out practice tests. For your own good, it is best that you do not cheat, as these are the closest you will get to the real thing, so set yourself in a room away from distractions and put yourself (or ask an eager parent to help) under examination conditions, i.e. no noise, no communication or answers. These will help to give an idea of where your strengths and weaknesses are, and will also show you which words you need to focus on more.
Finally, when it comes to the night before, make sure that you get an early night, not only to ensure that you are fully rested for the big day, but to also make sure that you get up early enough to have a decent breakfast and make your test on time! It is well known that people who attempt to work hard on little sleep and an empty stomach do not perform as well as those who had eight hours and a hearty breakfast.
If you follow these five simple and easy steps, you will arrive at your spelling test full of confidence and completely prepared to do your absolute best. Good luck!